To begin with, in the position of "Kneeling," a meaning unfolds. woven with the threads of human emotion. Along is a symbol of security and comfort. This posture tells a story delving deep into the core of our feelings.  Where solace and celebration blend.
To continue our journey on this subject. It begins even before our first breath in our mother's womb. Moreover, a realm of security, a universe painted with beautiful images. We are natural swimmers in this cosmos as we dwell within. Yet, as life grows beyond the womb, many of us forget to flow, with potentially dire consequences. The security we once held within us slips away rapidly. And once we emerge into the world, we seldom yearn to return.
This subject materialized during technological advancement. As I was engrossed in a spontaneous moment watching a music video. The actor knelt inside a semi-cave. Further, adopting the same fetal position. It's a gesture that spanned countless years, touching our shared human experience.
In my creative process, I employed a model to infuse the artwork with emotion. Also, the idea draws a connection to the ancient Inca civilization. Their disease rests in colossal vessels, echoing the fetal embrace of life and death.
This theme also goes back to a time of innocence. A cherished memory of a loved one.  Who introduced me to this profound subject. Sometimes, as we delve deeper into the intricacies of life and its meanings. We are met with both pain and reward. We navigate a world awash with judgments, and our patience wanes for those who embrace falsehoods.
All along, I have been deeply passionate about teaching art to children. Sharing the boundless possibilities within the creativity process.
"Kneeling" is more than a mere artistic endeavor. It's a testament to the human journey. It reminds us that even in our most vulnerable moments, we find strength and resilience. To conclude, it offers solace to the soul and connects us to the universal embrace of the fetal position.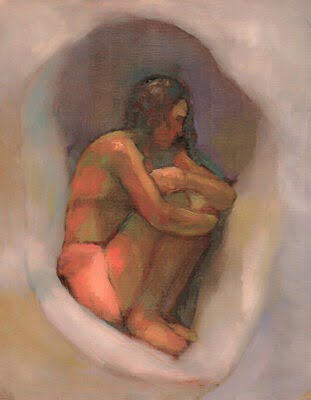 "Kneeling" 20 x 16″ Oil on Canvas 2001
Follow our video channel