Hope, every culture has ways of taking care of nature further, all in the name of progress.  Incidentally, greed wins most of the time. In addition, some governments do not address the problem deeply enough. Afterward, we do not even think about the causes. As a result, the extinction of many species is on the way to being part of a museum.
On the other hand, we must survive by disposing of and assessing whatever is out there. Nevertheless, "we have to exist, is a fact. But we have to treat our mother earth with respect." I hope to grow anew. "Where will we stand if the ground is gone." you can't reach the heavens without Mother's earth. A wake-up call to environmental issues. We are experiencing this in our lives. Nature does not have time to heal. In its component, we are extinguishing our resources. There is a simple answer: to take care of our home.
This painting symbolizes the uncaring attitude of humans whose attitude damages nature without considering the consequences. The tree is my objective. Additionally, I combined it with different symbols to create a single object. The Characterization of each tree is playful. Perhaps as hope to all of us. Indeed as reminds to us that there are also kids and elders and we are not alone on this planet.
In the technical aspect, it is necessary to explain how it was made and what materials were used. In order to attain subjectivity, it is necessary to determine the painting's looks. First, coat; wet into a wet technique to build texture. Then, along with added color variations on top of it. I created depth in the layers:
To sum up, These image surfaces represent technology—turned into mechanized organic forms. This is the industries around the world and the contamination they are accountable for. Besides, notice that the bottom contains fish bones. Shaped as ornaments. In short as a synonym for being in extinction awareness.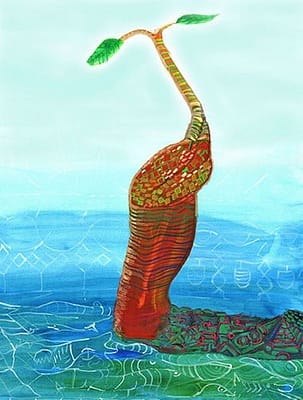 "Hope" 24″ x 18″ Watercolor on Paper, 2018
 HOPE
Video Link