UNBOUND
Placing ideas taken from actual experience is a revelation that never ceased to amaze me. On this subject, my main objective is to portray broken relations. Along, two figures are departing, not in a happy ending to an unknown voyage. Purposely cover the male with a turban to show uncertainty. The female is backward to show no emotions.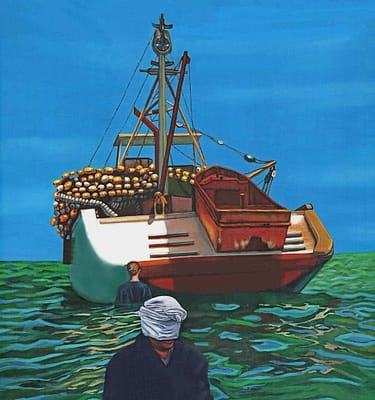 UNBOUND
The ocean the boat, and the sky balance the tension between these two. There are symbols full of memories from a pleasant place created by the mind. But unfortunately, the good times in harmony have vanished. Painting a subject like this helps me to bridge emotions to a disclosure.
UNBOUND
The inevitable separation of feelings for another person lies within us. But it becomes a memory in time, and eventually, we forget it. And life has to go on. Regarding the faithful dog, I placed it for broken promises. But we know they are our best friends.
ADIOS
Water is one of the most significant elements globally, we need to survive. And so often, we take it for granted. Yet, observing it for periods brings peace of mind, for its calming and relaxing.
ADIOS
Furthermore, the mask has served many purposes throughout history. Many cultures use it for performing arts-others for rituals such as becoming part of society and engagement. There is something about it that makes people act what they feel inside. So it is that it serves us as a protector, perhaps to say what we feel inside. Watch how they become this other character in disguise. Certainly, dancers' choreography shows us rage and passion, which is fascinating.
In conclusion, In the end, I'm sure we have been through a similar experience, and I would like to share it, with you.
Video link
"Adios" size 30″ x 29″ Oil on canvas, 2001
UNBOUND