UNBOUND
We approach and make a connection when we see an attractive person and want to know more. Coming together, we fall into the water of love. At first, it is cooling and refreshing.  The emotions of love are what we feel. Over time, when it looks like it will be more than just an infatuation, the initial feelings of love change, the water gets more profound, and we will soon be in over our heads. To continue the journey, two different people must get in the same boat.
One may see this as a great thing. They must face the challenging seas together, building a life in the boat. The other may have reservations that create a wind of change, forever anchoring the ship in unchartered water and returning to the unknown.
UNBOUND
Painting Development
Placing ideas taken from experience is a revelation that never amazes me. On this subject, my main objective is to portray broken relations. Along, two figures depart, not in a happy ending to an unknown voyage. Purposely cover the male with a turban to show uncertainty. The female is backward to show no emotions.
The ocean, the boat, and the sky are used as symbols to create a state of mind where the good moments of living in harmony have vanished. Our feelings could be our worst enemy but also our best friend.
Painting a subject like this helps me to bridge my emotions to a disclosure. A positive revelation that momentarily lapses in our life until we transition for good.  I'm very sure we have been through the same experience, and I like to show it to you to relate to it or enjoy the view.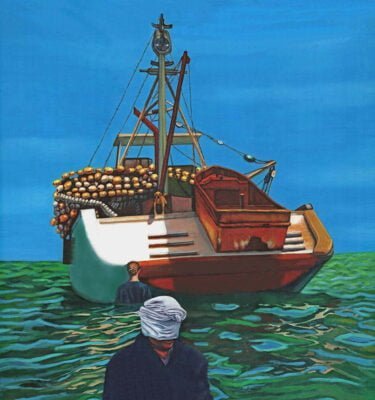 "Adios" size 30″ x 29″ Oil on canvas, 2001
Writing credited to "Chris Taomina and Gustavo Lucin.
Our videos at the youtube link