DISTORTIONS
LIFE REFLECTIONS
"The Beginning" Oil on Paper Size 4″ x 7″
MIND SETTING
Relate to life cycle concepts. Such as life and death. I developed this series directed to observation and reflection.
CYCLE DISTORTIONS
Equally, projecting through colors and symbols alluring reactions to our perceptions.
video Link
LIFE REFLECTIONS
MEANINGFUL OBSERVATIONS
We get so confused about what's right and what's wrong. It is so much that we forget to see the whole picture. As a result, we end up creating misconceptions. As a result, thoughts indeed become a double knife edge.
CYCLE DISTORTIONS
A RELATED PURPOSE
Acknowledging and listening are essential to a better relationship and friendship. I'm describing how to make a better world instead of killing ourselves. In other words, better to think about tomorrow. Put aside problems and reflect on a better time. 
CYCLE DISTORTIONS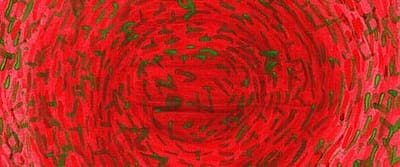 "Inner Numbers" 12″ x 9″ Watercolor on paper 2021
DECIPHERING CONCEPT
This painting shows numbers relating to the cycle of viability. Everything is said and counted. Furthermore, numbers in astrology have a purpose the moment we are born.
Then, later on, watch a number that follows us for the rest of our being. Next to us for good or bad luck, it is there. But on the other hand, it is up to us to change and control it. 
CYCLE DISTORTIONS
Further, the painting above visually describes the stages from the beginning. These circular shapes symbolize life movement. It represents the realization of enjoyment in life. And above all, these are steps in our life's brevity.  We are just passing through the life journey on earth.
"CYCLE DISTORTIONS"