Charcoal medium is one of the oldest media. That dates back some 28,000 BC Imagined our ancestors needing to document hunt events. Moreover, rituals were painting their faces meant to become adults. Moreover, it became much refined by the latest artists by burning wood, from big to tiny portions bound with gum into sticks. Then until now, fancy pencils have become available.
CHARCOAL
This is a dry media that releases a beautiful pigment. From grainy to textural techniques, the artist creates different styles to their taste.  The object dictates how it wants to be released.
Everything drawn with charcoal gives a unique moment. Spontaneous strokes create dynamics. Then, on the other hand, shading from dark to light gives us a tangible reality. The expression ranges in different directions where there are no limitations to use.
Furthermore, charcoal mimics other media such as oil in its texture. It boroughs itself for a classy cutting style. Remember, it compresses all colors into one spectrum. The light is visible, and the dark functions with it. One and the other are one. Black exists in nature and lives because of the morning.
What's more, black and white are distinctive in color for they are simple and do not tire your sight. Everything is solid and transparent. Therefore is associated with weddings, cleanliness, and peacefulness.
Charcoal, in terms of symbols, places a model in an overall light spectrum. And just a medium variant of black. Gray color but white as its dominant it creates a focal point. On the other hand, regarding subjects is interesting. Asian associated white with the dead.   A bad omen. But then again, what the caves man wanted to portray.  As being eaten or eating the animal.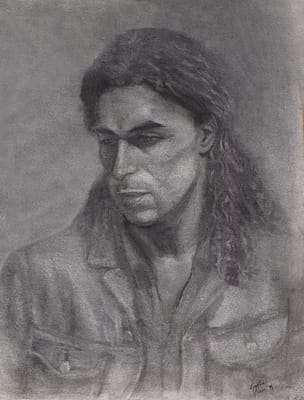 "Model" Charcoal on paper, Size 24″ x 18″ 1998
Visit our channel here.
CHARCOAL