Time in a Scale relates to a good friend and our good time together. We had just graduated from the School of Visual Arts and dreamed of having an exhibit in Soho, the mecca for us. Well, it was not because I never had a series of paintings that could represent me.
I met Carolina at the School of Visual Arts after graduation. Also, a painter who posed for me in a couple of paintings I did. She sits in the back on this theme, posing in despair; Latin countries were going through a dry time regarding drug lords. And the USA declared them as the first drug smugglers. I recalled her feeling shame from being of Colombian heritage, and I used to tell her not to, but it was in vain.
I meant to pose her as being in a reflective mood. But then, as I added objects around her, the painting came out somber. Moreover, the brown ground feels hostile, and nature reflects the state of danger we treat it. Obviously, this is a non-living place to be. So then, she adds a melancholy state of mind that bounces back and forth with the scale.
I brought her to help me at a gallery in Manhattan, where we were making copies for an Asian artist whose work was sent to the Taipei Museum in Taiwan,
However, she did not like New York's cold weather and returned to her beloved Florida. Their parents disagreed with me living with her. So I was the bridge for her to break their rules. In the end, we had a great time. But, then and now, it did change for good. Then in time, we grow more vital to remember and celebrate it.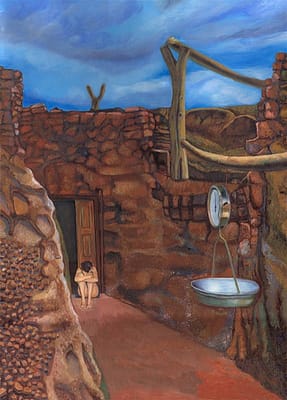 The Scale, 24″ X 18″ oil on canvas 2017
video Link
The Scale