THE FERRY
One among the many transporters from Long Island in New York. At night breezy and comfortable. But it all depends on where you are sitting. On a summer day, enjoy the trip on the top level. You can see Connecticut on the other side. Your car is in good hands. And by the way, the Galley has a good breakfast if you pass by in the morning. Among other currencies as the friendly bartenders. The name comes from the Irish reduced anglicized form of Gaelic fearadhigh, meaning "unknown name." Most related to the old English verb ferian, "to carry."  The Ferry.
The location of Port Jefferson is named after our President Thomas Jefferson. They were founded by steamboat companies who built them.  On the other hand, the illegal consumption of alcohol, such as rum, became a problem for the authorities. Production was confiscated from 1921 to 1933. Nowadays is replaced with tourism and business.
Moreover, the winter shows metallic blue on the water. The boardwalk on a snow day cast shadows in various light purple and greens from its surroundings.  Exciting and full of surprises.  The Ferry/Transporter
Further to say, the most complicated part of working on these specific subjects is the water which changes every second. I placed together different fragments into one image. Then enhanced on large to small scales, followed by the first waterfront, poles second, steamboat third, and the sky in the back.
I use the watercolor medium for its open and transparent pigments. It also gives the rigid mechanics a loose and more relaxing style. On the contrary, oil painting is luminous and spontaneous.  The Ferry/Transporter
Then it comes to the details of the water. Decisions must be made to make it work, such as in which direction the waves are moving. Also, its reflection is critical. This last one is what enriches the subject with hue variations.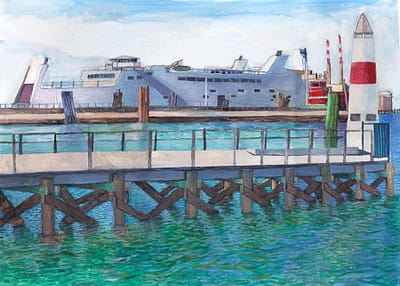 "Port Jefferson Ferry" Size 18″ x 24″ Watercolor on paper 2017
Video Link
THE FERRY