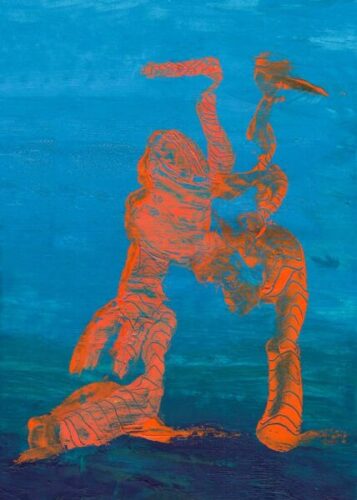 Finding meaning
Variations in an object is the term we use to indicate creativity in art. For the purpose of It allows an artist to transform a shape. Further, it enables, in turn, to allow one meaning to behind another.
VIDEO REFERENCE
VISUAL METAMORPHOSIS
"Octopus" 14″ x 17″ Watercolor on paper 2019
Certainly, what is essential? Above all is adding value and meaning to a piece.
Subsequently, mechanized lines turn over into an old familiar object. Then, at last, the difference relies upon a new texture.
The eye flows around the object and feels comfortable to watch. Even if we do not understand it.
VISUAL METAMORPHOSIS
24″ x 18″ Oil on cold press paper, 2021
"A sudden Sting" shows a sudden rebirth of ideas. The subject is a scorpion resurging from itself.  This Arachnida in defense will kill itself rather than being murder by its opponent. Then the myth is that it will come up alive. Symbolic speaking, we overcome problems for good or evil.
Finding Meaning
24 x 18 Oil on cold press paper, 2021
"The Snail" recalls a mounted figure similar to a tree riding over it.
Moreover, waiting for it's next cycle, perhaps to hatch. These tiny creatures are in the mollusk category and do not have backbones. They fertilize another snail's eggs and lays a clutch of eggs themselves.
Visual Metamorphosis
24 x 18 Oil on cold press paper, 2021
"Pisces" two images tied together at the end of the line. The mediator is the person who shares a bridge between life and death. Very deep conscious identities fill with magnetism and destruction.
Therefore, I  depicting them in a green soft background with a rough shape. To question us where beauty relies upon them. But, then the answer is to procreate.
Dedicated to Kristina 
VISUAL METAMORPHOSIS