The Metamorphosis/The development of an object indicates shape fluctuation in art. It allows an artist to transform a shape representing one item into a similar form. Further, it enables, in turn, to show depth. So why not explore both two worlds? Afterward is part of the same concept in an equal direction.
Moreover, applying the layers is the best bridge for unfolding ideas. For example, the formula is a random image with hundreds of technical possibilities for using colors. From fresh, a la prima, and impasto, It is fascinating. Indeed, what is essential? is value and meaning to a piece. Subsequently, mechanized lines turn over into familiar objects. At some point, the difference relies upon a new texture. The eye flows around the object and feels comfortable watching the metamorphosis. Even if we do not understand it
The metamorphosis above shows a rebirth of ideas. The subject is a scorpion resurging from itself. This arachnid will kill itself rather than be murdered by its opponent. Then the myth is that it will come up alive.
The scorpion recalls a printmaking technique. Having this in mind, I used this approach to recreate its form. It belongs to the arachnid category, for they have eight legs with no antennae or wings. Scorpions are found in dry and subtropical areas. Everywhere, but not in the cold.
I just recalled living in the suburbs back as a child. My brother and I used to wake up seeing Arachnida walking on the floor. It was wild and scary for the sting, and claws pointed up as ready to battle whoever crossed its path.
In conclusion, In the Metamorphosis, the bridge is about how we adapt and transform ourselves in our everyday lives. So of saying relating such as living in peace with our environment and the people we live with.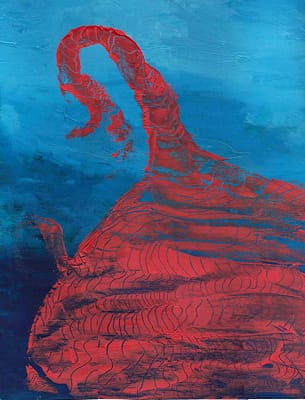 "A Sudden Sting" Oil on paper, size 28″ x 14″ 2019
Follow our channel here
METAMORPHOSIS