Within the graceful strokes of  "The Phoenix," an ancient symbol of transformation and eternal rebirth, takes shape. They are imprinted not as a mere model but as a tattoo on the shoulder. Every rendition by different artists connects timeless themes from metamorphosis, longevity, and the endless renewal cycle. Likewise, the vine chalk in this portrait evokes a sense of endurance. Indeed, the monotone adds an essence ideal that traverses the epochs of an emblem.
Also, it is like a delicate makeup application over the entire body. It creates a soft and elegant texture. Subtle and yet easily perceived. It allows the observer to discern the essence of the Phoenix without straining the eye. Light areas employ an inverse drawing technique. to define natural light and shadow, lending depth to the portrayal. In the past, artists had various materials drawn from the natural world. Nowadays, chalk is better compressed and less messy.
The genesis of this depiction arose on a summer day in his backyard as the sister-in-law and brother readied themselves for a pool vacation. Then, upon her back, the new symbol came to his attention. It inspired this creative pursuit and explored the concept of the Phoenix more deeply. Then, he personalized its essence into this drawing.
Besides, tattoo parlors, with skilled fine artists and designers, produce refined works. Each carries a story and depth of meaning within their art. The model, personified by the Phoenix, embodies the narrative of rebirth and reinvention. What was once a taboo has evolved into a fashion—a statement of identification for the new generation. The Phoenix's reemergence marks the dawn of a new life.
In short, "The Phoenix"  reflects the human spirit, inviting us to embrace the cycle of life, death, and rebirth—an emblem of continual renewal.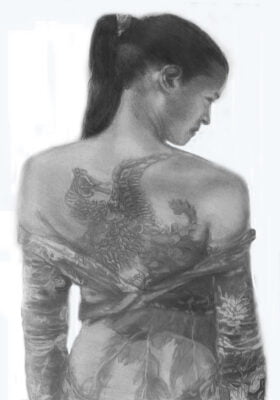 The Phoenix  24″ x 18″ Charcoal on Paper, 2017
Video Link
Editorial by Muhammad T.