Urban images are about people and city buildings from the present and the past. I present two groups of people and places in various settings.
The first person is the vendor, who is texting while working. The second is a group of municipal officials posing for a photo. The third is the city park and the Natural Museum of History. It was the beginning of spring, and I decided to go to the city. As I was searching for ideas, I walked by Museum Street. The scene above caught my attention. Vendors were selling coffee in their cars, but a picture in black and white was on the glass window. It was very different from the many advertisement photos on the streets.
At first, the subjects in the pics looked like German aviators to me. Still, observing closely, I realized that one of the soldiers was wearing an adult British Brodie hat from World War II.
A simple black-and-white picture helps you focus on the main subject and is soothing to your eyesight. In addition, it levels the whole canvas into one. In addition, the city colors in gray have been enhanced in warm colors to show the other side of life. As a result, there is plenty of enjoyment and excitement.
Then, I found my way to re-design during this term, combined with glass reflections. These pictures at first evoke a mix of ideas in our heads that will later crystallize as transparent images. Although the composition is parallel, the focal points are the models followed by the fragmented city. It shows the places and the excitement of its people.
In conclusion, the painting has many clues, full of spark and creativity. So enjoy these images of buildings full of glass and the people in their golden legacy.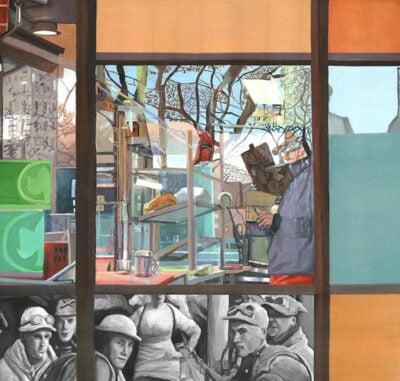 "Urban Images" Size 34″ x 34″ Oil on Canvas 2020
Video Link
Urban Images