The idea was born from a trip to Canada in Montreal. At the train station, to visit the dome, there were walls full of mosaic art. Full of orange, yellow, and green tones casting an afternoon light on the floor. Not from the fluorescent light but the street sidewalk iron bars, which were enchanting. Moreover, the USA flag model came from Jasper Johns, an American painter, sculptor, and printmaking artist. So transforming images from sources is recharging along with a past
Furthermore, for this reason, Borders is a political statement with many points to consider for its content. Then, in the technical aspect, it urges to alter the color. In either case, the stripes of white and blue changed. In general, the whole image where the flag with patterns rest. Green depicts fertile ground; also, the entire forest means abundance. Underneath the banner in the gold background full of Maya and Aztec symbols rest in ancient history.
In addition, crows are flying into the light, symbolizing the people.
For this reason, unable to cross the wall, some may die of starvation or drowning to find freedom. Thus, not leaving behind the smuggling of drugs in the middle of the need of the people and the lord drugs creates more problems. Further, then everybody pays for it, and deportation is inevitable.
Moreover, now clear what the message is. Borders' depiction represents the wall between the USA, Latin America, and other settlers. Consequently, it generates more income for impresarios in the labor areas. For others, a thread. In conclusion, the government has never ceased to steal, for their selfishness does not let them see the future of their citizens. In short, some people may meet to face their demise on the road to freedom.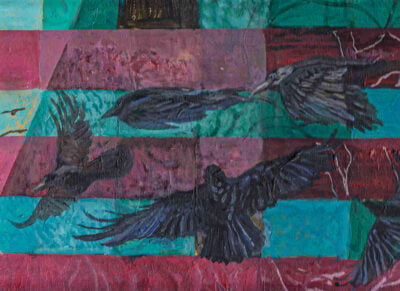 "Borders," size 42″x 59″ Mix Media on Canvas 2021-23
Video Link
BORDERS