Showcase, there is no other word to resume our pet's name in categorizing, which is "faithful." Indeed the dog does not hold boundaries to protect us. It will give its life away for us. Clumsy in youth but intelligent and versatile as they age, it sounds familiar, like humans. The only reason they do not talk is that god did not want them to, but they have an emphatical That amazes me.
SHOWCASE

While traveling in Costa Rica, taking pictures of the landmarks. I noticed a dog was sitting pensively and alone. Suddenly out of the blue, a pack of eight dogs walked next to me. I was on the floor on a narrow path. Of course, I got scared and did not move. There was an alpha dog in the front. It just looked at the sitting dog. He pointed it forward with its nose, and the dog followed him.
It is fun to paint animals further, for each has a character. Unfortunately, one died while painting it, but not on my account. The pet's name is Kelly, and she has a sad face. Remember, a dog lasted twelve to thirteen years, and she could not hold sitting for more than a minute. Sadly but true is like she's talking to us to put her out of her misery, poor thing.
Although, the portraiture is about three pets as a gift from Jacky to her grandsons. This painting I dedicated this to Kelly. Nevertheless, the subject demands how the piece will look at the end. Then
Lastly, oil media is complicated media to manage and relies on time, because of the layers. Then daytime and nighttime provide a different mood, and finally, to give it a flowing relies upon brushstrokes to recreate its similarity.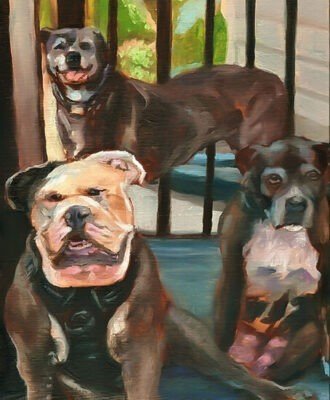 "Shelly and Family" size 12″ x 12″ Oi; on Canvas
Video link process 
SHOWCASE