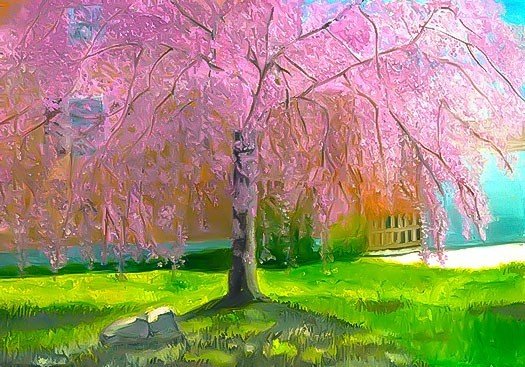 BLOSSOMS/TREE LANDSCAPES
WEEPING CHERRY TREE
18″ x 24″ Oil on cold press paper, 2017
Welcome to the spring, ladies and gentlemen. Let us feel grateful we are passing by halfway to overcome this epidemic that affected us very bad, we are survivors.
Furthermore, my portrait commissions came to an end until I get new ones. Moreover, there are enough projects and energy to create and celebrate.
SPRING PAINTINGS
Above, this content the painting location is around my house in Long Island. Even more, breezy, I recalled, but it did not stop me from capturing this daylight effect over the leaves.
BLOSSOMS
Alongside, the weeping cherry bloom from three to four weeks, beginning in April. After flowering, the tree produces a shiny green leaf with serrated edges. In the course of time, the beautiful hue of pink disappears very soon like a dream.
video Link
PS Words heightened in "blue" takes you to other pages, called links.
TREE LANDSCAPES
BLOSSOMS
There are times when I render figures with many details. Nonetheless, I leave that to the studio paintings, not when painting outdoors. The beauty relies upon different forms that creates a random effect, almost a la prima technique. Very exciting. This is the first time I publish this painting. Even though, the weeping cherry tree video was publish four years ago. Indeed, the painting needed to age like wine.
BLOSSOMS/TREE LANDSCAPES
SPRING PAINTINGS

 
MAGNOLIA ALEXANDRINA
Size 18″ x 24″ Oil on canvas, 2021
BLOSSOMS
Likewise, the cherry tree, its flowers last a short time but let me tell you, the fragrance that releases during the brief period is unforgettable. Also, to mention where it came from it will surprise you! It is an American hybrid original from France. It blooms in different shades, and this one, in particular, has shades of white, pink, and purple.
Onward, like most of my artwork, they have no finish. Further I leave it for routine evaluation, day by day. To sum up, some paintings should be left alone for their spontaneity. Nevertheless, I decided to go as it is. Enjoy the view (profitez de la vue); Thank you 
video Link
SPRING PAINTINGS