The warmth of the new summer sunshine warming my body is a feeling of renewal after a long winter. It is time to make changes, and I love being outdoors.
LOVE MOMENTUM
Attending local art fairs and gatherings is something I do to be a part of the art community. While at a painting exhibit in a nearby park. I met a woman who was one of the event organizers. We had a pleasant conversation and a spark of interest at this sunny Sunday art fair. After that, we started to get together to discuss painting over coffee. Eventually, we began an affair.
It was an enjoyable experience spending time together, talking about art, attending galleries, and communicating with the excitement of new lovers.
Eventually, the reality of personal responsibilities changed everything. Family commitments became a wedge in the wave of new love. The feelings changed. We grew apart.
Like a fresh flower, cut from the nourishing earth, in the bask of a warm summer sun, and displayed in a vase of still water, the passing of lovers will eventually wither away.
Love can last a lifetime or fade like a moment in a shadow.
Painting Details:
I developed this idea two years ago in my shady garden. Growing all types of flowers is rewarding, and I am happy to see them blooming.
Having flowers in the house adds the colorful beauty of nature and inspiration. To create this painting. I tried a different still-life approach; to enlarge small objects into an enlarged canvas. The painting looked shallow, and it needed to have meaning. Following this, I let it rest for a time. A year later, the message I searched for came in time. The petals cast a shadow, the stand holds a few spines for something so delicate as her beauty.
"It reflects a moment in time, summers ago."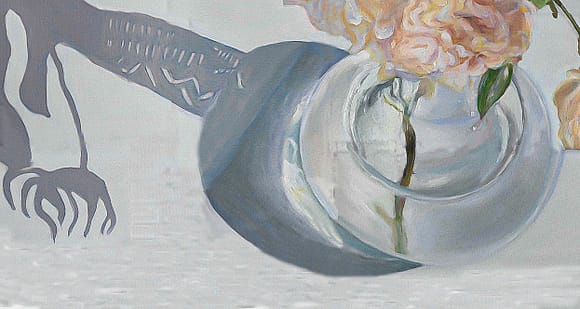 "Love Momentum" Size 48″ x 60″ Oil on Canvas 2023
Video Link