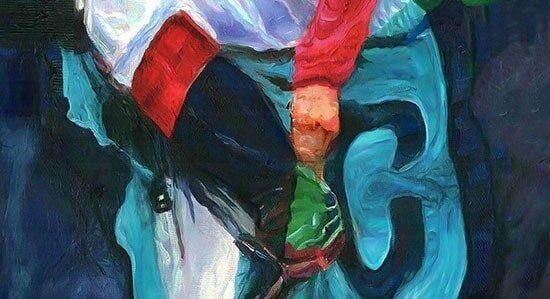 DYNAMICS LEARNING IMPRESSION
I like to re-create that moment we feel when we watch them speeding.
In the first place, by placing the objects next to each other.
Likewise, using geometric shapes together as a plane. Then, build layers.
Video Link
"The Front Runner" 30″ x 14″ Oil on canvas 2017
HORSE RACING PAINTINGS
BRIEF TRAINING
Lastly, hours of grooming care and training require long hours.
Subsequently, the trainee understands horses are susceptible animals.
They have good memories, and they can sense human emotions.
DYNAMICS LEARNING IMPRESSION
ENGAGING TIME
Moreover, my first painting, about Horses and Jockeys called "The Front Runner."
Along, took me an entire month to finish it. For then, I thought it was over.
So! until, five years later, I did the final touch-ups.
"In the cross above is an exciting never-ending experience."
DYNAMICS LEARNING IMPRESSION
TECHNIQUE APPROACH
"Jockey and Horses, colors and tonality are much loose compared to the first paint above.
Furthermore, as I developed these subjects, I discover more.
Explore and release creativity, for there is so much to learn and add! 
"At The Belmont Race" 7″ x 17″ Oil on watercolor paper 
SEARCH AND DISCOVER
Likewise, I live this freedom by holding a fraction of running adrenaline.
The color pigments set the tone in time.
"Racing the C" Drawing Details 16″ x 20″
"Close-ups are attractive and directed to details."
DYNAMICS LEARNINGS IMPRESSION
SUBJECTS INFLUENCE
Indeed, my first impression of studying horses and Jockeys was Edgar Degas.
Afterward, he concentrated on sketching and painting the rider and horses while training.
"Reaching" Drawing 16″ x 20″
I use my photos and sketches as references; As a result, they allow me to get them at their power peak. 
To conclude, something the old masters would have been pleased to use. And I'm content to explore it.
HORSE RACING PAINTINGS