First, the process requires physical and mental to follow the technical steps. Then, the concept is the same, just as in painting the difference is in the plane's form.
Third, to be able to transform and achieve a three-dimensionality in different angles. I sketched and studied his features.
BLOG POSTS
video link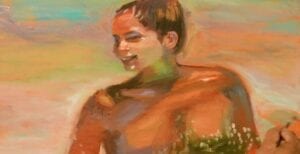 This semi-nude portrait commission came out the last week, and I had to do time in between the other works.
Along, with the use of Space, Carla's position is on a three-quarter view very hard to get; this is one head and figure posed about halfway between the front and profile pose. Besides, our brain plays an important role.
carla's link
BLOG ASSIGNMENTS DESCRIPTION
Afterward, we see with our eyes then, we look through our minds. At first glance in real life when objects move? Our sight compensates for what we want to see;  we seek clues, and then we build a conclusion.
continue video link
BLOG POSTS

BLOG ASSIGNMENTS
In addition, I thank Lise for referring me to commission Erik's painting dog, portrait.  It was finished last week and sent to Florida.
Sixty-seven percent of U.S. households, or about 85 million families, own a pet in the USA. The dog, followed by the cat, is the second most popular pet owned by humans.
Too bad they last from 10 to 13 years. My best friend was a mutt dog called Pillin. Whenever we could escape from our grandmother's house, Pillin was always there with us.
continue video link
BLOG POSTS